About:
Kathi was born in the previous century, lives on planet earth, and is reliant upon other humans for her continuing existence.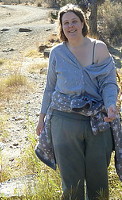 Two cats currently own the humans at this residence. Their names are Chowski and Callie. They eat a lot of cruchies. Buy pictures!!
K Bio Bits:
For those addicted to reading:

Kathi's education ranged from a one room schoolhouse in Harney county, at least 3 other towns, and then through colleges in various cities. Stopped going to school, but can't quit learning.

Currently sick more often than not. Hobbies include drawing, painting, reading, walking, plants, music and games.

Kathi has two sisters, Jenni and Lauri, a former husband, Simon, and sister in-law, Michelle. One nephew, Alexander, who stores toys in the middle of the floor and breaks chalk. Various kith and kin are still around. Some are not.

Many friends are not here, but not forgotten.